A survey of 5,858 working adults performed by the Pew Research Center in Washington DC found that 64% of workers feel uncomfortable returning to the office. The survey revealed coronavirus exposure to be the main concern for these employees. While this research was carried out at the end of 2020, there is still ongoing trepidation among workers.
So, how can you use technology to make the return to work less stressful for your employees?
In this Q&A, James Segil, Vice President of Access Control at Openpath, a Motorola Solutions company, offers his take on the technologies that are helping businesses and startups return to the workplace after the pandemic.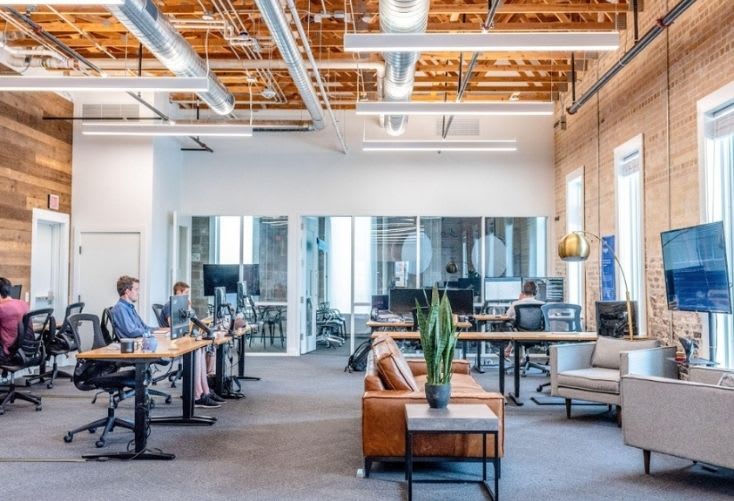 What tech solutions are leading the way in making a return to work safer? 
James Segil: This is a hot topic in the business world at the moment, with so many companies and startups vying to position themselves well for a successful return to work. Technology can make your workplace safer by helping you to avoid overcrowding, perform wellness checks, and manage who enters your building to decrease exposure risk. Let's go through a few of the technologies that are making all this possible for businesses.
Touchless Access Control
To protect your office space from unauthorized visitors and limit employees' exposure, you need a system to keep your doors locked. But today's technology can do so much more than that.
Cloud-based commercial access control systems are a great way to provide your employees with touchless entry via their mobile devices. Touchless keys are a great solution to reduce the number of people touching PIN pads or using physical keys that can make your doors a hotspot for germs. Plus, mobile-based entry eliminates the need for cards or badges, and makes managing office access easier in today's environment.
You can also integrate an access control system with other building security technology, such as cameras and alarm systems. This will provide you with combined access logs and video feeds on one interface, creating a more user-friendly and efficient system for your security staff. With features such as real-time security alerts and unusual motion detections, solutions like Avigilon and Openpath help alert and protect staff from potential risks with greater speed and accuracy.
Visitor Management
An efficient access control system will also allow you to manage visitors. Features like digital guest passes let guests easily access pre-determined doors with a link sent through email or text messages. This limits face-to-face interactions and reduces the physical contact in your office.
You can also open doors remotely to let in visitors from anywhere, and verify that your visitors are moving through the correct building access points to ensure they make it to their destination. Being aware of where your visitors are is crucial for emergencies, as they may not be aware of the emergency exits and evacuation meeting points.
What about controlling occupancy and maintaining social distancing measures? 
Even as the immediate threat of COVID subsides, the risk of viral transmission in the workplace is likely to remain for some time, and businesses can provide their staff with peace of mind by adopting technologies to help manage these risks.
Occupancy management allows you to control how many people are in one space at any given time. Using capacity optimization to determine how many people are allowed to occupy one boardroom or office helps maintain social distancing in the office and reduce liability if there is a case of coronavirus in your office. This is vital in the event of subsequent outbreaks, or other situations where occupancy needs to be limited.
When paired with an access control system, occupancy management can restrict access to a room based on how many people are using it. This software will also give you a detailed log of a room's use, allowing you to identify rooms that aren't being utilized fully. This detailed feedback can be helpful in determining whether you are efficiently leveraging your commercial space or if any downsizing is in order.
What about technologies that can help businesses to manage the trends toward hybrid work models? 
The traditional working model is certainly changing, and flexible, hybrid office spaces are on the rise. There are a few key technologies that make migrating to these new working models easier and more efficient.
Hot Desking and Desk Booking Software
A smart desk system lets employees book a desk on a program that allows them to see your office floor plan, the desks that are currently reserved, and the available desks. A desk booking software enables employees to reserve spaces in advance and ensure that they are able to sit with their teams to collaborate. Linked this to access control, only those with a confirmed desk reservation will be able to badge into the building, or open the door to a booked conference room.
Smart desk booking systems prevent overcrowding and enable you to create 'work bubbles' in your office to reduce exposure and effectively implement a self-isolation protocol. If one person gets COVID-19, you will be able to rely on your booking system records to determine who they were sitting close to, allowing you to act quickly and prevent further spreading.
Automated Wellness Verification
If you install access control into your building, you can require employees to fill out a wellness survey before granting them access to the building. With mobile credentials, this can be fully automated, too. Only employees who have filled out their surveys for the day will be able to unlock the door.
This can help you screen for coronavirus symptoms, as well as help you promote a culture of emotional wellbeing in your office. If you provide surveys for mood levels and employee satisfaction, this can help you to identify the need for employee wellness retreats or seminars.
Wellness verification is a great way to prove that you are an employer that genuinely cares about providing support that can make your employees feel valued, stress-free and safe in your workspace.
Technology and Hybrid Work 
If your employees love working from home, you may want to apply a hybrid work model to increase employee satisfaction. The hybrid work model allows employees to have in-person meetings and get more support in the office while enjoying the luxury of lie-ins and a better work-life balance by avoiding a long commute.
You can use technology to support your hybrid work model, too. Occupancy management and innovative desk systems will allow you to evaluate the need for downsizing if spaces aren't being used as much with the new work model.
Is Your Workspace Safe?
Whether you're coming back to the office full-time or implementing a hybrid work model, you will need to make your employees feel safe.
Advanced technologies designed to optimize safety without impeding productivity allow you to do this with ease while providing better security for your building to maximize the return on your investment.
Original post here